Custom Hacky Sacks / Footbags
If you're looking for custom hacky sacks, you're in the right place. I've been doing custom footbag projects for individuals, clubs, camps, games, weddings and everything else you could think of for 20 years. I've made footbags for Nike, The Air Force, The Army and thousands of large and small businesses all over the world. The best thing to do is to get a hold of me at bombfootbags@gmail.com or call me at 412-965-9772 and explain what you're looking for and I'll be happy to help.
Email Mike
Free Logo Printing

Custom orders include a logo print to really make these footbags look good! High quality prints that really stand the test of time, even I'm impressed.

Custom Colors

It's not custom if you can't pick the colors! We have a good assortment of material colors to make it look right and can match CMYK Pantone colors when printing logos.

Pick Your Style

I typically use one of a few styles that have larger panels for better print space, but we can pick a style and a filling that will work best for your custom hacky sacks.
Common Questions
How does it work?

Everything goes through me, Mike. Email me with your thoughts. I email pricing, comments and suggestions. A mock up can be made to really get a feel. You say, let's do it! I send an invoice. I ship when they're ready.
How long does it take?

On average the process takes about 3-4 weeks, but please email me with any deadlines you have and we'll see what's possible.
Are they good quality?

These are the same footbags I sell to my retail customers who are passionate about the game! This is not a "promo ball," it's a nice custom hacky sack, and believe me, there's a difference.
How much are they?

There are a few too many variables for me to just post prices, shoot me an email with your basic thoughts and I can get back to you with some pricing. There are no hidden fees or setup fees or processing fees, I keep it pretty simple!
Send Mike an email with a few details about your project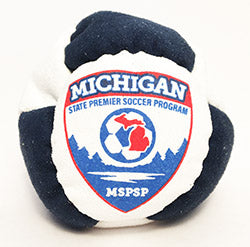 We Like Happy People
"Hi Mike, the hacky sacks arrived – we absolutely LOVE them! Such a nice product – everybody in the office loves them and I'm sure the kids will love them as well. 5/5!" - Tyler at MSPSP